Soooo, the other day I was perusing all my sales on Etsy from waaaaaaaay back, and was reminded how it all began, and as I re-count this story at least 3 times a day to customers in the shop, I thought I'd tell you lot about it too, so here goes....
In 2001, I just about scraped a third in my Silver and Goldsmithing degree at Rochester. In all honesty, I chose the wrong course- I should have done fashion or textiles, but was too lazy at the time to change it!
Anyway, having collaborated with my best friend for her fashion collection, and making the handbags and accessories for her final show, I discovered how delicious it was, working with leather. I never worked with metal again, which was a massive relief as I was rubbish at soldering!
Shortly after graduating, we're talking a matter of hours, I disappeared out of Medway and back to my hometown of Bournemouth, where I spent the summer (and maybe a little bit longer) labelling video tapes. Pretty glamourous stuff.
I did, in fact, get to the point where I could stick the spine label on one handed. I considered entering the Guinness Book of Records for my speedy labelling, but alas, I soon started to get the shakes from drinking copious amounts of instant coffee.
I was soon promoted to printing vinyl CCTV signs, apparently labelling videos wasn't mentally stimulating enough for me, although I believe it was more to do with placing me in a work area far, far away from the coffee machine, thus saving the company a considerable amount of money on hot beverages.
Every evening, after my tape labelling day job, I'd go home and play around, experimenting with leather (NOT in the kinky sense), until I came up with a simple handbag design, with a folky, South American inspired design:
Then I did start experimenting in the kinky sense, and made these rude little ladies...
Here's a photo of me looking super young, demonstrating how to pass out on a friend's floor, and spill the contents of your handbag...
I called my brand 'Love From Hetty & Dave', after an old photo I got in a junk shop while I was living in Rochester. On the back, written in felt tip pen: 'To Mary and Bill, Love From Hetty & Dave'
No idea who this adorable couple is, but I presume they are Mary and Bill- Hetty & Dave probably took the photo, and sent it to them.
Aaaaaanyway, in 2005, I realised that the old folk of Bournemouth were never really going to appreciate my kinky handstitched works of art, and I made the move to London, where I worked as a customer services manager for an online fashion retailer.
How I got this job, I will never know, as I could barely send an email, let alone do anything else that involved the internet. Luckily, I'm a fast learner, and managed to get by, despite phoning my dad, crying my eyes out, on the second day!
I moved into a teeny, tiny bedsit off of Portobello Road, and worked my fingers to the bone every minute I wasn't at work, stitching my appliqued leather handbag creations to sell on Portobello Market every Saturday.
As it turned out, nobody was prepared to spend the money (which really wasn't very much) on a handmade leather bag, by a new, unknown designer. Looking around what people were selling on the market, I quickly sussed out that jewellery was what sold, and soon I had scaled my designs down into brooches and necklaces.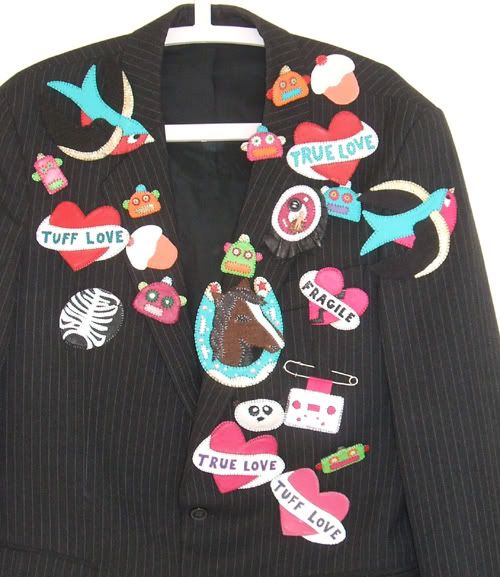 Bearing in mind, that craft seller websites like Etsy didn't exist at this point in time, or if they did, nobody really knew about them, the only way of selling my product was through markets, and after listening to the advice of the other stall holders, I moved over to Spitalfields Market, where things really started to take off. But that's a story for another day...
For now, I'll leave you with pictures of my Leather Tattoo Swallow handbag design:
And the Leather Tattoo Swallow Man-bag I made for Marc Almond of 'Soft Cell', in 2005...
Next time, whenever that will be, all about what happened when I started trading at Spitalfields...